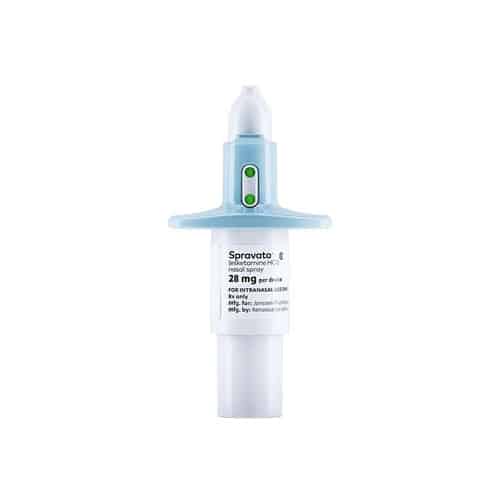 Spravato vs Ketamine – what's the difference?
Ketamine infusions are a reliable treatment for Major Depressive Disorder (MDD) and have been proven to be a successful treatment option for 70% of treatment-resistant patients. Ketamine has been the subject of extensive research over the last 17 years. Its high success rate and lack of side effects makes it the most promising treatment for the tens of millions of people who cannot find relief from standard anti-depressants such as SSRIs, or therapy alone, and paved the way for Spravato™ to be created. Learn more about Ketamine infusions from our links directly below.
What Is Spravato? – Meet The Esketamine Nasal Spray
Due to the success Ketamine has had in treating Major Depressive Disorder (MDD), it was inevitable that a more easily deliverable version would be created for FDA approval. Because Ketamine is a generic drug that has existed since the 1960's, pharmaceutical companies explored small variations of the Ketamine molecule that could also be effective for treating depression. Enter Spravato!
In 2019, the Esketamine nasal spray Spravato was approved by the FDA for the treatment of MDD that is treatment resistant or includes suicidal thoughts. With its approval, patients now have the choice between Ketamine IV infusions and esketamine treatments in the form of a nasal spray for MDD. When deciding on Spravato vs ketamine, there are a few differences to consider, below.
What Are the Differences Between Ketamine and Esketamine Treatments?
"What is the difference between Ketamine and Esketamine" is a question we often hear. There are two different types of Ketamine: R-Ketamine and S-Ketamine. While they are nearly identical molecules, they have slightly different effects on the brain. The type of Ketamine used in IV infusions is racemic, which means that is a mixture of R-Ketamine and S-Ketamine. Meanwhile, Esketamine is isolated to only contain S-Ketamine, which makes Spravato unique for Esketamine treatments.
Early scientific evidence suggests that both are effective treatments.  IV Ketamine infusions of racemic Ketamine may present better outcomes due to a number of factors including delivery method, dosage, and chemistry. "Intravenous ketamine appears to be more efficacious than intranasal Esketamine for the treatment of depression." (Journal of Affective Disorders
Spravato vs Ketamine
Comparison of IV Ketamine Infusions vs Spravato™ Esketamine Treatments
Edit
Ketamine IV Infusions
Spravato Esketamine Treatments
Method of Delivery
Ketamine is given through an IV over 40 minutes precisely. This allows the provider exact control of the experience and enhance the cognitive effects of the treatment.
Spravato™ is self-administered in two to three intranasal sprays admin in five-minute increments. An alternative for patients who would prefer to avoid an IV.
Insurance Coverage
Insurance will only cover the psychiatric care given at the clinic not the Ketamine infusion itself. There are out-of-pocket costs even with coverage.
Your insurance may cover the cost of Spravato™. Prior approval will be established before treatment.
Your responsibility could be as little as $0 for each treatment.
Bioavailability
The bioavailability of IV ketamine is 100%.
This means the full dose that is given will reach the brain.
Nasal spray of applications has a bioavailability of approximately 50%.
Spray can remain in the nasal passages and be swallowed, which the affects the amount of medication that reaches the brain.
Treatment Schedule
Six Ketamine infusions are administered over the course of 2-3 weeks.

Maintenance booster infusions are needed by many patients. The frequency depends on the strength and length of the patient's response. The schedule varies from once a month to two times a year.

Weeks 1 to 4: Spravato ™ is administered twice a week, eight times.

Weeks 5 to 8: One treatment weekly

Week 9 and after: Every 2 weeks or as needed, depending on patients response.

Dosage
IV dose is determined by weight (Kg/Kilograms) and titrated to provide a consistent, controlled, and comfortable delivery.
Spravato™ is provided in two doses: 56mg and 84mg.

The prescribing health care provider will select the dose based on the patient's treatment response.

Eligible Disorders Treated
Major Depressive Disorder
All Types of Treatment Resistant Depression
PTSD
Anxiety Disorders
Bipolar Disorder
Substance Abuse
FDA Approved for Major Depressive Disorder and Acute Suicidality
Medication Requirements
Treatments can be given by themselves without any other medications or while taking any psychiatric medication
Spravato™ must be administered in combination with an oral antidepressant.
Length of Appointment
Between 90 and 120 Minutes
2 and 1/2 Hours
Why Choose New Pathways Clinic for Your Spravato Esketamine Treatments?
The New Pathways Team has over a decade of experience treating treatment-resistant patients with Ketamine and we are ready to help guide you through your Spravato Esketamine treatments. With a simple nasal spray application, Spravato offers patients another option for treating their major depressive disorder and suicidal ideation.
Do anti-depressants feel like they are merely treating surface level symptoms?
Have anti-depression medications and counseling left you feeling like no treatment works for you?
Schedule a free phone consultation with the experienced team at New Pathways Clinic and see if Spravato could help you.