Treating Depression with Spravato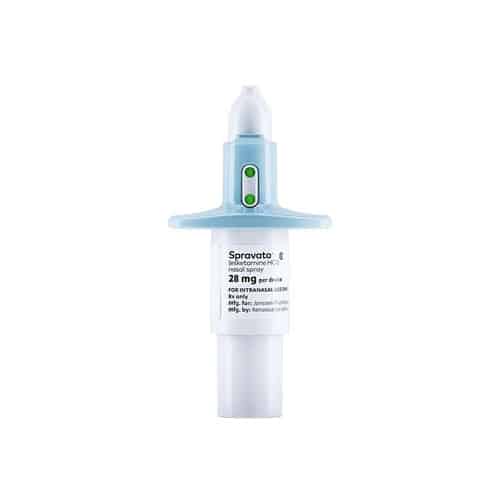 While Ketamine is a successful option for 70% of treatment-resistant patients, lack of accessibility, trypanophobia (the fear of needles in a medical setting) and other speedbumps have kept many patients from venturing down the road to Ketamine IV Therapy. Ketamine Infusions have seen great success over the past few years, making it inevitable that a more easily deliverable alternative would be the next step in treating Major Depressive Disorder (MDD.)
Enter Spravato Nasal Spray
In 2019, the FDA approved Esketamine Spravato™ Nasal Spray as another variation of the Ketamine molecule that could also be effective for treating depression. Spravato is a prescription nasal spray of Esketamine, used for treatment-resistant depression (TRD) or Major Depressive Disorder (MDD) with suicidal thoughts. Spravato contains S-ketamine, a different variation from the Ketamine molecule used in Ketamine IV Therapy.
According to Johns Hopkins Medicine, "Esketamine works in a similar fashion, [as conventional antidepressants] but unlike other antidepressants, it increases levels of glutamate, the most abundant chemical messenger in the brain."
While conventional antidepressants are more gradual and slow-acting, Esketamine works rapidly and reduces depressive symptoms within a few hours. 33% of people with depression don't respond to conventional antidepressants, but Esketamine has been known to reduce symptoms in the majority of these clinical trials.
Esketamine vs Ketamine
The Ketamine molecule used in Ketamine IV Therapy is racemic, a combination of the R-Ketamine and S-Ketamine molecule, whereas Esketamine is solely comprised of S-Ketamine, making it unique. There are also a number of other factors that differentiate Ketamine and the Esketamine in Spravato, including the method of delivery, bioavailability and dosage amounts.
Unlike traditional Ketamine Treatments which are administered via IV, Spravato is self-administered in two to three intranasal doses administered in five-minute increments. Spravato is a professional, medical alternative for patients who would prefer to avoid an IV injection.
For more information on Spravato treatments from New Pathways Clinic in Cleveland, visit our Spravato Frequently Asked Questions page. Feel free to reach out to New Pathways if you have more questions, or easily schedule a FREE phone consultation to find out if Spravato or ketamine are right for your needs.